Brittney Valeski
Here's To Making Sure Luna Doesn't Lose Her Shoes Anymore.
I'm so sorry that you'll only get that title if you're a Harry Potter fan.

I'm sure you've gathered by now... we're big into our books, movies, and all the things that give us warm fuzzy childhood feelings. I grew up with Harry Potter. I remember borrowing book one in forth grade from a friend and I quickly sought out and devoured two and three. And then... the wait. Sequential novel fans know what I'm talking about. The sad months between books that drag on. I'm lucky I had summer break as a kid to distract me but a few weeks before school started I distinctly remember my dad driving me to Wall-Mart at midnight to buy book 4. What a guy. This went on and on until -SPOILER ALERT- book six ripped my heart out, threw it on the floor, and stomped on it. Anyway I'm fine and I've totally healed from that and I definitely don't have stains in my book from my tears. I don't know what you're talking about. Side note- of course I finished the series after that...book six was just ROUGH.
Alex had my wand from Pottermore made for Christmas 2018 and it's a keepsake I love to display. With it came my Hogwarts letter (FINALLY, I'VE BEEN WAITING) and my Hufflepuff crest patch. I needed a place to display my prized possessions and luckily I had this bookcase from a sale a few years ago that I didn't quite know how to repurpose. And then, a vision appeared from the DIY Gods themselves.
**Full disclosure** I started this project on my front porch during the summer of 2019. Living in Pennsylvania, you take advantage of any time you can outside because winter, well it lasts 36,765 months. I'm kidding but I'm not kidding. I cleaned this piece with some Krud Kutter and brought out my trusty Junk Monkey Vintage White. I've completed 3 project at least with just the one can and it's ultra affordable meaning I get to stay within budget every time!
Just Sand It.
I was guilty of seeing "no sanding, priming, or stripping required!!" on every ad for chalky style paint and taking it so very literally so my first few projects I left my sandpaper in the garage. While you don't NEED to sand, I highly recommend taking the few minutes to sand and wipe down between coats. The difference between projects where I took the time to do this and did not is incredible. I still run my hands over the buffet table I refinished last year because it truly looks like black velvet.
Once I got to the last coat of paint I took my trusty sanding block and hit those edges hard. I wanted this piece to be fairly distressed since it already had some dings and imperfections around the trim anyway. That's a pro tip I've picked up along the way... play to your piece's quirks, don't try to mask them! You'll spend so much time trying to hide imperfections that if allowed to shine will make your piece more authentic and imperfectly perfect. Now if you're missing a whole leg off a nightstand or something...that's a different story. A chunk missing out of the front? We can work with that.
I painted, waxed, and buffed the bookcase and decided to hold off on the inside back portion. I didn't know when I started the project but now that I was half way done I realized I didn't just want the back to be white. This piece needed flair. I decided to use it while I looked for the materials needed so here she sat, in our living room entry way... for 6 months!
Would you believe it's next to impossible to find anyone selling paperback Harry Potter books in decent condition? I mean I guess I would because if someone came for my prized originals from my childhood I would throw myself in front of them Lily Potter style. (Too much?)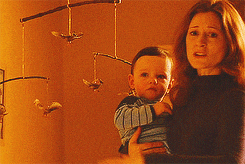 Alex and I had been scouring the internet. Facebook marketplace, eBay, even begging people I saw in passing or online to give up their old HP hoard. Finally after a few months Alex was able to secure Sorcerer's Stone, Prisoner of Azkaban, and Half-Blood Prince. I was so excited! My goal was to pick key pages, chapter titles, and the best quotes so that every time I put my shoes away I can think of Harry getting his Firebolt or Hermione using her Time Turner to save Buckbeak. Once I carefully tore the pages from the book, I grabbed my Mod Podge and a brush and got to work. This didn't take long at all but I would recommend not doing this after leg day, I was so sore!
Two coats of Mod Podge later and I had my finished piece. I am in love with the way it turned out! I now have the perfect shelving unit to store my shoes and display my Harry Potter memorabilia. Let me know if you have a piece you're looking to flip!
Until next time,
Brittney